DVD VIDEOS - 4 Volumes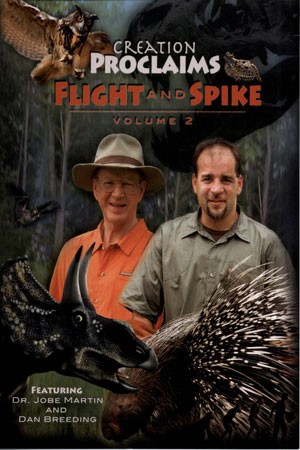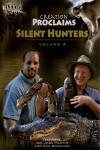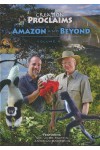 Join Dr. Jobe Martin and Dan "The Animal Man" Breeding on a wild animal adventure.
You'll come face-to-face with some of the world's most fascinating creatures—
they are ferocious, mysterious, at times hilarious, and always miraculous creations of God.

Creation Proclaims by Dr. Jobe Martin - Vol 1, Climbers and Creepers, $14.95

* Gibbons – The World's Greatest Acrobat
* Baboon – The World's Largest Monkey
* Aye-Aye – Madagascar's Midnight Hunters
* Hissing Cockroaches – Giants of the Insect World
* Nudibranch – God's Rainbow of the Sea
* New Zealand's Wonder Weta
Teachers Love It! It's easy… flexible… and fun. Choose a chapter and study one creature at a time… or "Play All" to watch the entire video from start to finish. Students will learn, laugh and be amazed as they discover how Creation Proclaims the Creator. An excellent video for: Schools – Science, Biblical World View, Apologetics and Creation Classes Churches – Sunday School, Bible Studies, VBS, Sermon Illustrations Homes – Families, Friends, Personal Study Coming Soon:
you can Order Direct at: (818) 707-8986
---

Creation Proclaims by Dr. Jobe Martin - Vol, 2, Flight and Spike, $14.95
In Creation Proclaims: Flight and Spike you'll discover how creation is proclaiming the character, majesty, power, and glory of our Creator-God, the Lord Jesus Christ. In each feature,
you'll learn how God is reaching out to mankind in unmistakable ways by making Himself known through:
Owls – The Silent Raptor

Bats – The Mysterious Flying Mammal

Dinosaurs – The Kingly Beast

The African Crested Porcupine

Horned Toad Lizards – The Desert's Thorny Reptile

Naica Crystals – Mexico's Crystal Palace

Earth – Created for Life
So grab your night vision goggles and telescope, and get ready to encounter God through the wild wonders of His creation. You'll be inspired through Biblical insights and invigorated by the adventure!
you can Order Direct at: (818) 707-8986
---

Creation Proclaims by Dr. Jobe Martin - Vol, 3, Silent Hunters, $14.95
In each creature feature, you'll learn how God is reaching out to mankind by making Himself known in unmistakable ways through: Alligators, Archerfish, Boa Contrictors & Pythons, Mountain Lions and Rattlesnakes

Extra Features: Silient Christians by Mike Riddle, Molecular Biology in Creation by Harvard grad Nathaniel Jeanson Ph.D. of ICR, and Apologetics for Creation by Dr. Jobe Martin and Dan Breeding.

So, grab your camera, pull on your hat and boots, and get ready to encounter God through the wild wonders of His creation. You'll be inspired by the Biblical Insights and invigorated by the adventure!
you can Order Direct at: (818) 707-8986
---
Creation Proclaims
by Dr. Jobe Martin - Vol 4
, Amazon and Beyond, $14.95
Join Dr. Jobe Martin and Dan "The Animal Man" on an adventure deep inside the Amazon rainforest and beyond. It is here that God reveals Himself maybe more than anywhere else on Earth because of the enormous diversity of plants and wildlife. In The Amazon and Beyond (Volume 4), you'll discover how creation proclaims the character, majesty, power and glory of our Creator God. In each featured creature, you'll learn how God is reaching out to mankind in unmistakable ways by making Himself known through:
Macaw – The Parrot King

Kinkajou – Amazon's Sweet Honey Bear

Marmoset – God's Miniature Monkey

Symbiosis and Mutualism: Mighty Brazil Nut Tree to Industrious Leafcutter Ant

Anaconda – Amazon's Mystery Monster

Spider Monkey – The High-Flying Acrobat

Lemur – Madagascar's Friendly Phantom

Bullhorn acacia Tree and Ants

Bush Baby – The Little Night Monkey

Toucan – Rainbow of the Jungle

Slow Loris – The Poisonous Primate

Three-Banded Armadillo – The Tiny Four-legged Tank

Millipedes (extra feature)

Capuchin Monkey (extra feature)
you can Order Direct at: (818) 707-8986


---


ALL 4 DVDs $46.00 ($12.00 ea.)
you can Order Direct at: (818) 707-8986






®© MMVII
info@sonrisemusic.com